By Jennifer Sperry
Welcome, coffee enthusiasts and adventure-seekers alike! We're thrilled to share the news of a dynamic duo joining forces to spread good vibes and savor the rich flavors of life. Digby's Market and Switchpoint Coffee Co. have teamed up to bring you the ultimate blend of coffee passion and social impact. So buckle up because this blog will take you on a java-tastic journey!
Sip, Savor, and Switch: The Perfect Blend
Digby's Market believes in curating exceptional experiences for our community. Their love for classic cars and vintage charm has become a driving force behind the newly popular St. George Cars & Coffee events. But what better way to complement the vibrant automotive culture than by indulging in the art of coffee appreciation? Cue Switchpoint Coffee Co. a coffee company with a mission as captivating as the aroma of freshly brewed beans.
Brewing with Purpose: Switchpoint's Impactful Mission
Switchpoint Coffee Co. stands at the forefront of conscious coffee culture. You're not just treating your taste buds but contributing to positive change. Allow us to spill the beans!
Fair Trade: Empowering Women in Third World Countries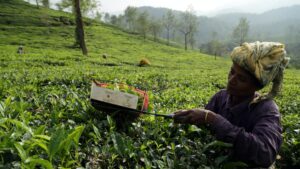 Fair Trade Coffee Beans: Switchpoint Coffee Co[/caption]
Switchpoint sources its coffee beans through fair trade practices, empowering women in third-world countries where the coffee is grown. By creating sustainable partnerships with these women-owned cooperatives, Switchpoint ensures fair wages and better working conditions, promoting economic growth and social equality. So, when you savor that delightful cup of Switchpoint coffee, you're uplifting the lives of these incredible women who pour their hearts into cultivating the beans that fuel your day.
Fueling Hope, One Sip at a Time: Switchpoint Coffee Co.'s Impact on Homelessness
At Switchpoint Coffee Co., our passion for crafting premium coffee extends far beyond the love for a perfect brew; it's about making a meaningful difference in the lives of others. With every delightful cup, we strive to create a lasting impact on the issue of homelessness in our community. As part of our core mission, we are dedicated to giving back, and that's why a significant portion of our proceeds goes directly to support Switchpoint and its efforts to combat homelessness.
Switchpoint, a nonprofit organization based in St. George, Utah, works tirelessly to provide comprehensive services to those experiencing homelessness. By donating a portion of our sales, we aim to contribute to their noble cause, ensuring individuals and families facing adversity have access to shelter, nourishment, and essential resources. We firmly believe that no one should be without a place to call home, and through a partnership with Switchpoint, Coffee Co is determined to fuel hope and create a better tomorrow.
When you choose Switchpoint Coffee Co., you're not just savoring the coffee's exceptional taste and aroma; you're also joining us in positively impacting the lives of those in need. Together, sip by sip, we can bring warmth, support, and comfort to our fellow community members, turning every cup into an act of compassion. So, let's raise our mugs high and toast to a brighter future powered by the love for coffee and the unwavering commitment to end homelessness. Together, we can brew a better world for all. 
Coffee and Clicks: Snap, Tag, and Win!
But wait, there's more! As our partnership blossoms with Digby's Market, we're bringing you the most exciting coffee contest in town: Coffee and Clicks! We want you to capture those precious moments of coffee bliss with Switchpoint Coffee Co. All you need to do is take a picture with our coffee bag or while sipping our delectable brew, tag both Digby's and Switchpoint on your social media, and voilà! If you take a picture at one of Switchoint's many locations or Digby's, you will get an extra entry. Either way, you're in the running for some fabulous prizes.
Wake Up to a Year's Supply of Switchpoint Coffee!
That's right, coffee aficionados! We've got two winners each month. One lucky coffee connoisseur will win a full year's supply of Switchpoint Coffee, keeping them fueled with our premium blends all year round! But fret not; we will run a contest every two weeks. That way, someone gets a taste of victory with a complimentary bag of our finest coffee for the second winner of the month.
Embrace the Spirit of Adventure: Visit Us in St. George, Utah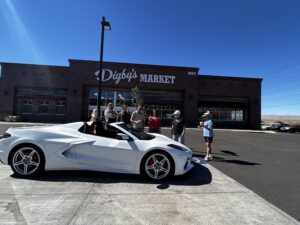 Digby's Market Cars & Coffee: Switchpoint Coffee Co[/caption]
As you embark on this coffee-filled journey, remember that prizes must be picked up in person at Digby's St. George, Utah location. It's the perfect opportunity to come together, share stories about your classic cars, and celebrate the spirit of adventure that unites us all.
Spread the Buzz: Enter Now! So, what are you waiting for? Let's embrace the joie de vivre (exuberant enjoyment of life), revel in the delightful world of Switchpoint Coffee Co., and unite our love for classic cars and premium coffee at Digby's! Snap, Savor, and Score your chance to win big in our Coffee and Clicks contest! Let's make each cup count, and together, let's drive change, one fair trade coffee bean at a time.
Digby's Market and Switchpoint Coffee Co. extend the offer to join them in this camaraderie, compassion, and caffeinated bliss journey. Together, we'll pave the way for a world where coffee fuels our bodies and souls. Join us today! Get your coffee fix on at Digby's!